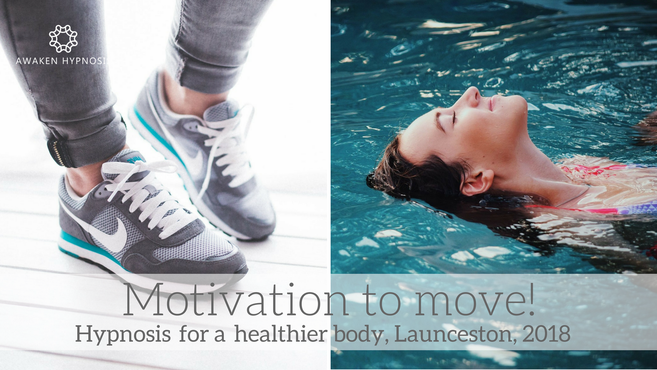 Motivation to Move in the Bliss Lounge Launceston, Saturday 26th May
Do you want to feel enthusiastic about exercising? Are you tired of feeling tired and demotivated? Maybe you're just looking to start exercising for the first time. Or perhaps you've just lost your enthusiasm for a sport or movement that you used to love.
This Hypnotic experience will give you the energy and enthusiasm boost you've been looking for. I've helped hundreds of people to feel excited about improving their health and fitness, so why not you?
This workshop uses the best Hypnosis and NLP (Neuro Linguistic Programming) techniques to help you to feel excited and confident about exercising. You will have your own comfortable leather recliner, and the best in sound and light technology to ensure you can relax deeply and enjoy the experience, whether you are new to Hypnosis or a regular user.
"It was great. Thanks for having me... ran 4.03 km in 35 mins on the treadmill today
Donna, April 2017
The experience is restricted to a maximum of 6 people, and you will have your own very comfortable reclining chair, and Kasina sound and light technology to ensure you relax deeply. 
Details:
What: Motivation to Move
Price: $60 
Where: The Bliss Lounge - Level 1, 127 George St Launceston (Upstairs above Bikram Yoga Launceston, formerly the Roman Baths)
When: 1pm - 2.30pm Saturday 26th May 2018
Bookings: Click here to book!
(Discounts available for concession card holders and students, email louise@awakenhypnosis.com for more information)  
Online booking accepts credit card or Paypal payments. If you would prefer to pay via bank transfer, please email me at louise@awakenhypnosis.com
If you are still not sure whether to proceed, head on over to read some testimonials here or send me a question at louise@awakenhypnosis.com
Was brilliant Louise - in bed by 745pm apparently out to it at 8pm woke up at 630am 😴 maybe I should have done the insomnia workshop 😊 recommend get in & give it a go 👍
Rachel, April 2018
CANCELLATION POLICY - Prepaid events & workshops are non-refundable. You may transfer your ticket to someone else, as long as I'm alerted prior to the event. If enough notice is given of a cancellation and I am able to re-sell your seat to someone else, you may be eligible for a credit to another workshop. However there is no guarantee I will be able to re-sell your seat, even if a waiting list is in place.