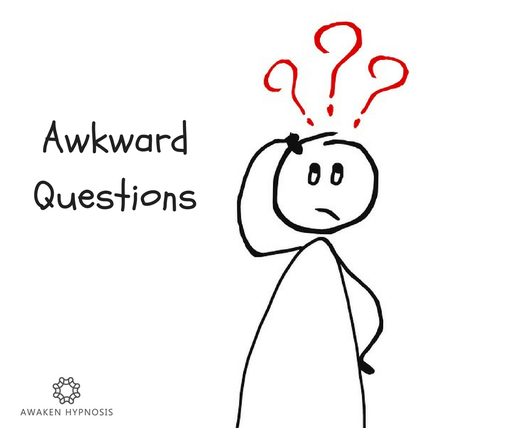 So you've thought about coming to a small group Hypnosis workshop (with the leather recliners and your own sound/light technology) but something about it just feels a bit awkward. Maybe it will be weird and creepy and you'll have to talk about your feelings! Or there'll be chanting and group hugs. Big NO to all of that. Keep reading and maybe your questions will be answered
Do I have to talk about myself or my 'issues' in the workshop?
No, definitely not! It's called a workshop because you'll get to try out different techniques (including several experiences of Hypnosis), but you don't need to talk to anyone (even me). Everything takes place in your own mind. I make sure you're physically comfortable, and you control where you let your mind go. You're in your own recliner, and everyone is facing me (no circles or uncomfortable eye contact with strangers).

Will it be weird and confronting?
No, it's very positive and relaxing. We don't delve into past hurts, trauma or upsets. It's very forward focused, you just think about how YOU want to feel in the future.


What if I fall asleep and snore?
People do fall asleep from time to time in the workshops (the sound and light technology, combined with the leather recliners, and blankets can be VERY relaxing). You are welcome to sleep if you're tired (your mind will still absorb the Hypnosis). If you snore (which also happens occasionally) I will gently wake you, just so that others aren't disturbed. Do you have any other questions? I'm happy to answer them all!
So if you're curious about upcoming workshops - here's what's coming up in April 2018!

Motivation to Move - If you're struggling to stay on track with your fitness routine, or even get started - this workshop will help you to fall back in love with exercise! Saturday 7th and 14th of April.
Stress, Anxiety and Insomnia
- If you're feeling stressed or anxious, or you're struggling to sleep well at night, this one is for you. Saturday 7th and 14th April.
How to be Happier
- Whether you're already happy and just need a boost, or you've been feeling stressed, sad or dissatisfied, this workshop has something for you. Saturday 7th April.
You can see the details of
all three workshops here
or you can jump
straight into booking here.