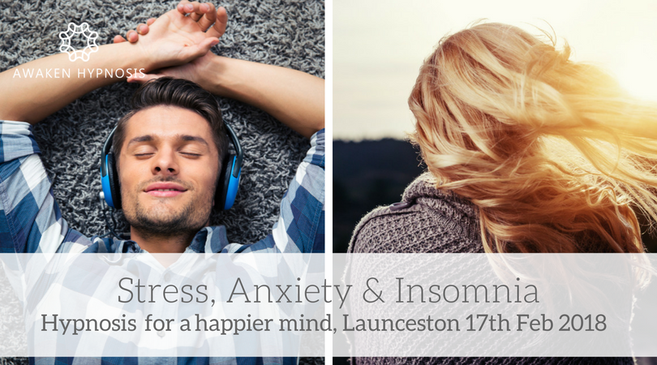 Stress, Anxiety & Insomnia in the Bliss Lounge Launceston, Saturday 10th February and Saturday 17th February, 2018 (only a few tickets left!)
Do you feel weighed down by stress? Do you have repetitive negative thoughts? Do you wake up exhausted each morning? If any of these sound like you, this Hypnotic experience will help you find a way to feel better about yourself, and life. I've helped hundreds of people to let go of their stress, anxiety and insomnia, why not you?
This Launceston workshop uses the best hypnosis and NLP (Neuro Linguistic Programming) techniques to help you to banish stress, relieve anxiety and sleep more deeply at night. It also takes advantage of the amazing brainwave technology used in the  Bliss Lounge, to ensure you can relax deeply and enjoy the experience, whether you are new to Hypnosis or a regular user of it. 
"From the moment I walked in the door, I felt calm and comfortable. I have a busy life and needed help with stress. Louise immediately made me feel at ease and my active mind turned off. She knew how to get to the route of my stress and has helped me find a way to deal with it. I've never felt so relaxed. I highly recommend Louise and I can't wait for my next session"
Belinda, Launceston, 2016
 This class will teach you about stress, anxiety and insomnia and show you some ways to relieve these troubles. It will also include multiple hypnosis sessions to reprogram your mind to be calmer, happier and sleep more easily.
It is suitable whether you suffer from just stress, just anxiety, just insomnia, or any combination of the three. 
The experience is restricted to a maximum of 4 people, and you will have your own very comfortable reclining chair, with privacy screens to ensure you can relax deeply. If you'd like to learn more about the venue - the Bliss lounge, please click here.
Details:
What: Stress, Anxiety and Insomnia 
Price: $60 
Where: The Bliss Lounge - Level 1, 127 George St Launceston (Upstairs above Bikram Yoga Launceston, formerly the Roman Baths)
When: 9.30am - 11am Saturday 10th February 2018 (tickets available)
0r  11am - 12.30pm Saturday 17th February 2018 (sold out)
Bookings: Click here to book!
(Discounts available for concession card holders and students, email louise@awakenhypnosis.com for more information)  
If you would prefer to pay via bank transfer, please email me for information. Thank you
If you are still not sure whether to proceed, head on over to read some testimonials here or send me a question at louise@awakenhypnosis.com
Compliments for the Bliss Lounge
Very relaxing, feel like I have had a good night's sleep.
Scott, December 2017
Relaxing chairs! Feeling quite relaxed and did feel I could drift away. Seeing purple and grey colours moving in and out as you talked about letting things go. The petitions between the chairs is a great idea. The tea is lovely too. Thank you
Debbie, December 2017
Wonderful comfort. Exactly as described. Even in a group it still felt like a very personal session.
Emily, December 2017
Louise was relaxing, from the moment I walked in she made me feel at ease. Being completely unaware of what to expect, this was something I will do again and soon. I feel very different walking out and in a good way, thank you. 
Dee, December 2017