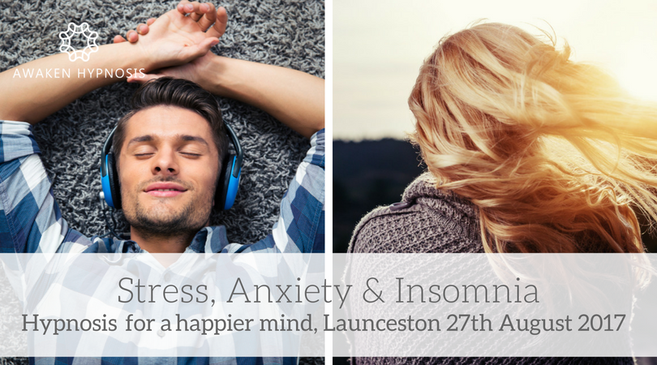 Stress, Anxiety & Insomnia - Launceston, Sunday 27th August 2017
Do you feel weighed down by stress? Do you have repetitive negative thoughts? Do you wake up exhausted each morning? If any of these sound like you, this class will help you find a way to feel better about yourself, and life. I've helped hundreds of people with stress, anxiety and insomnia, why not you?
This Launceston workshop uses the best hypnosis and NLP (Neuro Linguistic Programming) techniques to help you to banish stress, relieve anxiety and sleep more deeply at night. It's suitable for adults and children 12+ (please contact me if you want to discuss whether it would be suitable for your child).
"From the moment I walked in the door, I felt calm and comfortable. I have a busy life and needed help with stress. Louise immediately made me feel at ease and my active mind turned off. She knew how to get to the route of my stress and has helped me find a way to deal with it. I've never felt so relaxed. I highly recommend Louise and I can't wait for my next session"
Belinda, Launceston, 2016
 This class will teach you about stress, anxiety and insomnia and show you some ways to relieve these troubles. It will also include a VERY relaxing hypnosis session to reprogram your mind to be calmer, happier and sleep more easily.
It is suitable whether you suffer from just stress, just anxiety, just insomnia, or any combination of the three. 
Details:
What: Stress, Anxiety and Insomnia - A Hypnotic Class
Where: 127 George St Launceston (Bikram Yoga Launceston, formerly the Roman Baths)
When: 1pm - 2.15pm Sunday 27th August 2017
Price: $33 - includes a free hypnosis mp3 for use at home. 
Bring: A pen, a notebook if you want to take extra notes, your favourite pillow or blanket (we have mats and cushions here that you are welcome to use as well)
Bookings: Click here to book your class
(Discounts available for concession card holders and students, email louise@awakenhypnosis.com for more information)  
If you would prefer to pay via bank transfer, please email me for information. Thank you
If you are still not sure whether to proceed, head on over to read some testimonials here or send me a question at louise@awakenhypnosis.com
Class feedback
"I found it quite relaxing, and not knowing what to expect was interesting. I liked the feeling I got when you told us to come back to our body like pulling feeling, the feeling of heaviness was surreal!"
Melissa, Jan 2017
"This was great thanks Louise, highly recommend it to everyone"
Lisa, Jan 2017
"I really enjoyed this afternoon Louise. So relaxing. Clever kind girl. X"
Lindy, Jan 2017
"I had the best time today Louise thanks so much xxx"
Fran, Jan 2017
"It was great Louise thanks!"
Tash, Jan 2017
"Anxious about coming but when here not at all....Very beneficial. Some strategies that I will implement".
Sue, Jan 2017
"Very professional, relaxed environment, non-judgemental"
Christine,  Jan 2017