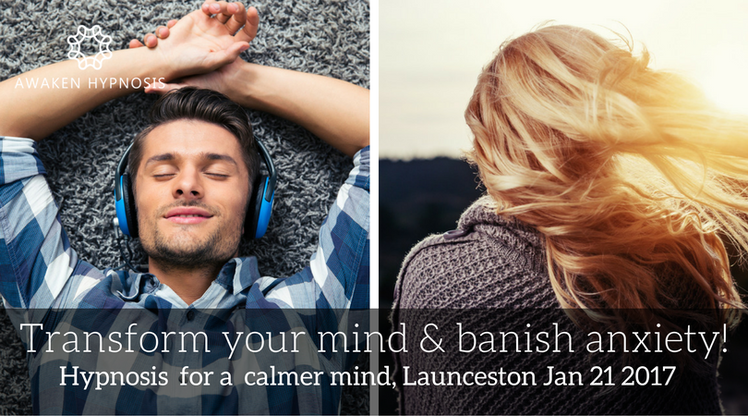 Transform your mind & banish anxiety!
We all have stress and anxiety in our lives, but sometimes it can become too much, stealing our joy and making it difficult to enjoy life. Sleep can be interrupted and we can feel on edge all the time. The great thing about anxiety, is that an anxious mind is great at hypnosis!  This workshop will give you all the tools you need to stop anxiety from taking over your life, to feel happy and at peace, and to sleep better than you ever have before.
From the moment I walked in the door, I felt calm and comfortable. I have a busy life and needed help with stress. Louise immediately made me feel at ease and my active mind turned off. She knew how to get to the route of my stress and has helped me find a way to deal with it. I've never felt so relaxed. I highly recommend Louise and I can't wait for my next session.
Belinda, Launceston, 2016
It doesn't matter if your anxiety is around social situations, work, family, romance, school, or if it's a constant chatter in your mind, hypnosis can help you to relax and start enjoying life.
This workshop uses the best hypnosis and NLP (Neuro Linguistic Programming) techniques to help you to change the way you think, act and even sleep.
You will learn different tools you can use in your own life, as well as experience several periods of deep relaxing hypnosis.
I've helped many many people change the way they feel, so why not you?
Details:
What: Transform your mind & banish  anxiety! A Hypnotic Workshop
Where: 127 George St Launceston (Bikram Yoga Launceston, formerly the Roman Baths)
When: 1pm - 3pm Saturday January 21st 2017
Bring: Pen and notepaper, water bottle if required
Investment: $55
Are you giving this as a gift? If you are buying a ticket as a gift, be aware that whatever mobile number and email address you register with will receive confirmations and reminders, so if you don't want that person to know you've bought it yet, use their name, but your own email address and mobile number.
If you are still not sure whether to proceed, head on over to read some testimonials on this website. I've helped hundreds of people change their lives, so why not you?
And if you're ready to book right now, click the link below. Space is limited so don't miss out on this relaxing, stress busting workshop.
Workshop feedback:
"Thank you for the wonderful session today. I got a lot out of it and hope this lovely relaxed feeling lasts a little while longer."
Christine, Jan 2017
"Thankyou so much for today! I didn't get a chance to catch you before I left. I certainly feel relaxed and am looking forward to continuing at home with the downloads."
 Emma, Jan 2017
(Would you recommend Awaken Hypnosis workshops to a friend or loved one?) "Absolutely! I know others that would really benefit."
Anon, Jan 2017
"The options provided allowed for flexibility and adoption of personal preferences. Very personable approach. It was a very helpful workshop. Thank you Louise for your gentle, calm and thoughtful approach."
Anon, Jan 2017
"Anxious about coming but when here not at all....Very beneficial. Some strategies that I will implement".
Sue, Jan 2017
"Very professional, relaxed environment, non-judgemental"
Christine,  Jan 2017
"First hypnosis was excellent, also found worksheets inspiring and positive"
Anon, Jan 2017
"It made sense, positive, squash that negative! Thank you, I really enjoyed it"
Anon, Jan 2017
"Calming/relaxing. It was great!"
Anon Jan 2017