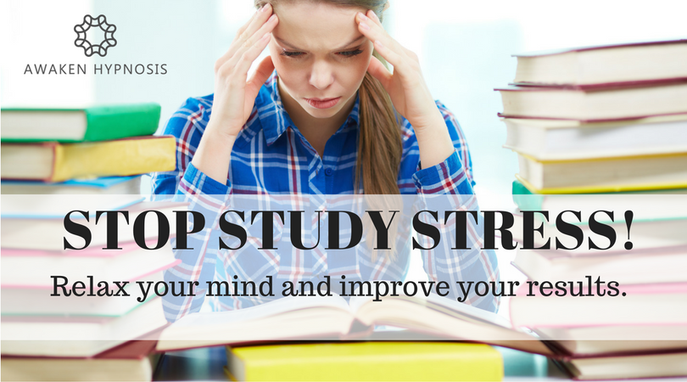 Are you anxious about exams? Stressed about your studies? Do you make simple mistakes or forget what you've learned when you're under pressure? Do you read the same page over and over without retaining that information?
Please note: I'm not accepting any more enrolments in this workshop. If you have study stress, please contact me for a private appointment. Thanks.
"I'm so much more relaxed than I was this time last year!"
Awaken Hypnosis Client and Year 12 Student, 2016
"Your hypnotherapy is working miracles. I've managed 100% and 95% for my exams so I'm very happy. Still have the usual essays and reports to write this weekend but they're no drama now."
 Awaken Hypnosis Client and University Student, 2015
This hypnosis workshop will prepare your subconscious mind for success. Whether you are studying, presenting, or simply need to recall more information under pressure, this workshop will increase your success and help you to enjoy the challenges of study. This workshop will teach you to:
*Train your brain to focus when studying
*Feel relaxed and confident about tests and exams
*Learn more quickly and easily
*Recall information in high pressure situations
I'm a clinical hypnotherapist with years of experience helping students of all ages to relax, think clearly, and feel better about their studies.
The workshop will include two periods of hypnosis, as well as a chance to learn and try techniques that will help you in many different situations. As a BONUS each paying attendee will receive a free hypnosis recording to use at home.
Who: Students aged 14-100 (teenage attendeees are welcome to bring an adult guardian at no extra cost)*
Where: 127 George St - Bikram Yoga Launceston (the old Roman Baths).
When: 1pm - 2.45pm, Saturday 5th November 2016
Bring: A notepad and pen. Any snacks or drinks you might require (water and herbal tea will be provided)
Cost: $65 (includes a free take home hypnosis recording)
Book: Book and pay online
Questions: Email louise@awakenhypnosis.com
*Please let me know if you are bringing a guardian, so I can ensure we have enough space.